Stories of the Skin (2012)

Stories of the Skin:
Exploring Women's Skin through Oral History
By Ellen Brooks, 2012
Found in the Academic Commons
The purpose of this oral history thesis is to examine women's relationship with their skin, focusing on tattoos and scars that tell stories that are considered essential to a narrator's identity. My initial research demonstrated that skin is inherently linked with the idea of self and the presentation of self to the outside world. I began this project with an interest in exploring the skin's potential as a permanent physical archive, canvas, protective barrier, and more. In order to do so, and to build on my academic research, it seemed obvious that oral history was an ideal vehicle because it would allow me to insert actual women's voices into the conversation. While every narrator would have an individual story to tell, living with and interpreting the stories of our skin is a universal experience.
The concentration on scars and tattoos would serve to narrow the focus. The project would be an attempt to give voice and agency to women who have something to say about what their skin says about them. My original interest in skin and tattoos and scars came about organically, from conversations about my own tattoos, entertaining story swapping about "battle scars," and an extremely compelling article from the New York Times about young Israelis getting tattoos to match their grandparents' Holocaust tattoos. The article struck me especially because of the diverse reactions and charged conversations that the tattoos inspired. It left me thinking about tattoos and scars, and tattoos as scars, and what it means to have these memories permanently marked on our bodies.
As I began my oral history work, I was motivated by the potential that oral history had to bring these stories and themes to light, and now I am excited to present them publicly through the project website (storiesoftheskin.com—now defunct), and to start a larger conversation about skin and embodiment.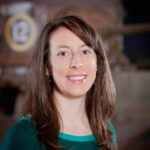 After graduating from Fordham University in 2008 with a B.A in History and a B.A. in Communications, Ellen Brooks worked on various projects, including interning with the Chicago History Museum and the Chicago Cultural Alliance. She found her way to Oral History through a passion for storytelling and public history. During the summer of 2013Ellen worked as the Education Intern for the Lower East Side Tenement Museum where she aided in organizing the Museum's oral history collection and advised on integrating oral history into public programming. She graduated from OHMA in the fall of 2013—her thesis project focused on how women narrate the stories of their scars and tattoos Ellen currently works as the Oral Historian at the Wisconsin Veterans Museum in Madison, WI where she manages the current oral history collection while working to grow the Oral History Program.