Oral History and Our Times & There is No There There (2012)
Oral History and Our Times:
Multimedia Oral History Showcase
By the 2012 OHMA Cohort, May 2, 2013
Curated by Amy Starecheski, OHMA Associate Director
Check out the full event description on the OHMA blog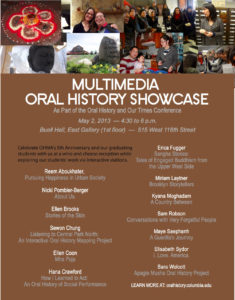 Our two-day conference explores the role of oral history in documenting, disseminating, and educating students and the public about the central events and concerns of our times—such as the rule of law in America and impact of U.S. detention and rendition policies over the last decade.
The second day of the conference will focus on the impact of Columbia's path-breaking Oral History Master of Arts program (OHMA), the first program of its kind in the U.S., now in its fifth year. The programming will open with lunchtime interactive oral history workshops taught by OHMA students and alumni, free to the public. In the afternoon, we will host a series of dialogues between OHMA alumni and faculty, engaging the ways in which oral history research is bridging disciplinary divides and intervening in the intellectual questions of our times.
The day will close with a multimedia showcase of our students' thesis work in video, audio, online and edible forms. Celebrate OHMA's fifth anniversary and our graduating cohort at a wine and cheese reception while exploring thirteen exciting oral history projects via interactive stations.
This event is co-hosted by the Columbia Center for Oral History and Oral History Master of Arts program, and is part of the Paul F. Lazarsfeld Lecture Series.
There is No There There:
An Interactive Pop Up Exhibit
By Sewon Chung, Kyana Moghadam & Maye Saephanh, May 17, 2013
Check out the full event description on oralhistoryexhibit.wordpress.com
This exhibit is a multimedia presentation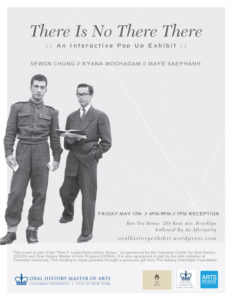 of oral history projects featuring the stories of three different communities and places. The event features topics ranging from the audiovisual narratives from the Central Park North neighborhood ("Listening to Central Park North" by Sewon Chung, 2012), the life histories of Iranian Americans ("A Country Between" by Kyana Moghadam, 2012), and stories of Lao Mien guerilla soldiers who fought on the American side during the Vietnam War ("A Guerilla's Journey" by Maye Saephanh, 2012).
This interactive exhibit is an innovative and artistic interpretation of oral history collections created by three Oral History Master of Arts students at Columbia University. This is their first collaborative project to present the stories and histories of communities that have a special meaning in their lives. They strive to present these unique oral histories to you through the use of innovative and artistic platforms to help give voice to our subjects and their experiences, and in turn, to shed light on the significance of the places and moment in time these stories are set in.
This event is co-sponsored by the Columbia Center for Oral History and is part of the Paul F. Lazersfeld Lecture Series. It is also sponsored by the Arts Initiative at Columbia University. The funding is made possible through a generous gift from the Gatsby Charitable Foundation.