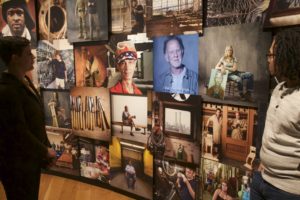 Oral History: From Creation to Interpretation
2016 Thesis Showcase Series
Featured Projects
This year in OHMA, we have been reflecting on the convergence of academic rigor, public-facing dialogue, and an anti-oppression framework. We encourage you to contemplate the following questions while engaging with our selected students' work:
What does it mean to balance ethical standards and analytical audacity while pursuing transdisciplinary practice?
How can we serve the needs of the communities we collaborate with and seek to engage a larger populace?
How can we conduct interviews acknowledging historical structures of oppression and implement projects that generate social change?
For an additional look at our students' projects through the years—exploring the convergences of oral history and activism, memory, identity, and beyond—tour their diverse thesis websites, crowdfunded campaigns, and Academic Commons submissions. Each project offers reflections based within the authors' scholarly research, ethical frameworks, and personal experience. Our students construct digital spaces that encourage a synthesis of public outreach and community engagement, amplifying the narrators stories to a broader audience.

BIBLIOGRAPHIC CITATION:

Chicago/Turabian Student Theses: StudentLastName, FirstName. "ThesisTitle." Oral History master's thesis, Columbia University, YearofPublication. Student Audio Pieces: StudentLastName, FirstName. "AudioPieceTitle." Oral History Works. Audio interview excerpt, NarratorFirstNameLastName, DateofPublication. SoundCloudURL. © All rights reserved to author.