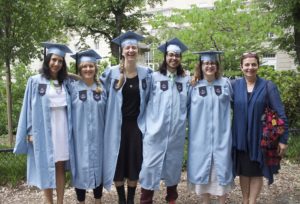 Student Exhibitions:
Annual Public Pop-Up Showcase
Since OHMA's fifth anniversary, our students have been showcasing their cumulative projects in a year-end public exhibition. Take a trip back through time and browse some memorable moments from each cohort's celebratory event, including an interactive map of the 2015 cohort's recent exhibition.


BIBLIOGRAPHIC CITATION:

Chicago/Turabian Student Theses: StudentLastName, FirstName. "ThesisTitle." Oral History master's thesis, Columbia University, YearofPublication. Student Audio Pieces: StudentLastName, FirstName. "AudioPieceTitle." Oral History Works. Audio interview excerpt, NarratorFirstNameLastName, DateofPublication. SoundCloudURL. © All rights reserved to author.