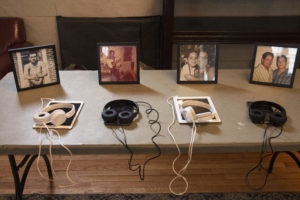 Edited Audio Pieces
Student Projects from Fieldwork Class
Spring 2016 & 2017
All OHMA students learn to use Hindenburg audio editing software in our Fieldwork, Production and Archiving course. After an introduction to the tool, they are asked to create a 2-3 minute audio piece using the oral histories they've recorded. This can be a barely-edited clip or a heavily-edited montage, one voice or many, narrated or not, with music and sounds or voices only.
Each student plays their draft piece for the class and guest audio instructor Michael Garofalo, Executive Producer for StoryCorps, provides comments. We ask ourselves questions like:
What kinds of stories can we tell in 2-3 minutes?
What kind of editing is ethical?
Are these ethics different in audio than in print?
How do we provide context for a short audio piece like this?
Based on the feedback they receive, the students create a final draft to hand in. This year we chose a few of our favorite pieces to share online. Enjoy!
– Amy Starecheski, Ph.D., OHMA Co-Director

BIBLIOGRAPHIC CITATION:

Chicago/Turabian Student Theses: StudentLastName, FirstName. "ThesisTitle." Oral History master's thesis, Columbia University, YearofPublication. Student Audio Pieces: StudentLastName, FirstName. "AudioPieceTitle." Oral History Works. Audio interview excerpt, NarratorFirstNameLastName, DateofPublication. SoundCloudURL. © All rights reserved to author.