A Radio on One's Own: The History of 'Radio Donna' (2016)
A Radio on One's Own: The History of 'Radio Donna'
By Paola Stelliferi, Visiting Scholar, 2016
Listen to this edited audio piece through OHMA's SoundCloud channel
I imagined this clip as a trailer for an audio-doc about the experience of an underground Feminist radio station created in Rome in 1976: "Radio Donna" [Radio Woman]. The feminist program was totally managed by women, although it shared a radio frequency with "Radio Città Futura" [Radio Future City], the first subversive radio station of Rome, which had been founded by activists of a New-Left organization called "Avanguardia operaia" [Working class Avant-garde].
I put together extracts from interviews collected in 2011 with Radio Donna's activists—Carla and Chantal—and from some recordings of episodes of Radio Donna that had been privately preserved. Carla and Chantal kindly made the audiotapes available for my research about the Roman Feminist movement; I will never stop thanking them for their kindness and loyalty.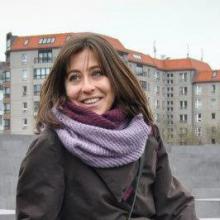 Paola Stelliferi is currently a visiting scholar at the Columbia University Center for Oral History Research thanks to a scholarship co-founded by the European Social Fund for the POR Lazio 2014/2020. She is a Teaching Assistant at "Roma Tre University," Department of Political Studies and received a Ph.D. in Historical, Geographical, and Anthropological Studies from Ca' Foscari University of Venice in September 2016.